Dengue Pest Control
myRaksha helps you protect from this deadly disease by preventing you from mosquito bites through its effective dengue pest control services
Dengue Pest Control Services in Bangalore, Karnataka
Bangalore has seen a significant rise in Dengue cases in the last few years and no vaccination or no medications exist to treat dengue infections. The adage "Prevention is Better Than Cure" can't be more suitable for Dengue. It is very important to avoid mosquito bites to keep dengue away and myRaksha helps you protect from this deadly disease by preventing you from mosquito bites through its effective dengue pest control services.
Service details:
Team Size – 1-2 (depending on the size of house)

Service Duration : 15 – 30 mins (depending on the size of house)

Do's – People sensitive to pesticides must keep away during treatment;

Keep food items in the refrigerator or sealed containers.

Don'ts – Do not Clean the treated surface before it is dried
About Dengue
Dengue is a mosquito-borne viral disease that has rapidly spread in several regions of the world. Dengue virus is transmitted by female mosquitoes mainly of the species Aedes aegypti and, to a lesser extent, Ae. albopictus.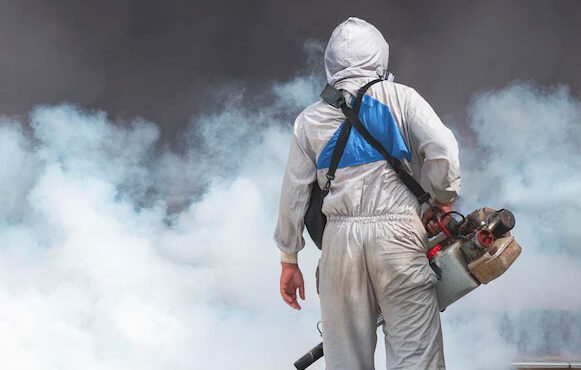 Symptoms of Dengue Fever
Dengue fever symptoms:
High fever

Severe headache with pain behind the eyes

Body Ache

Rash manifestation

Mild bleeding from the nose or gums
Milder illnesses occur in people with their first infection, while older children and adults show more severe symptoms.
The southern state of Karnataka is reeling under dengue with 10,524 cases registered so far in 2019. This is a 138% jump from 2018 when 4,427 cases were reported in the entire year. TOI reported that 61% of the dengue cases — 6,515 — were from Bengaluru alone, which is governed by the Bruhat Bengaluru Mahanagara Palike (BBMP). In the first week of September alone, 322 cases of dengue have been registered in the BBMP area. After Bengaluru, Dakshina Kannada has the second highest incidence of dengue reported with the number standing at 948 cases so far. In Karnataka, the highest number of dengue cases have been from Bengaluru.
Areas Served in Bangalore
Get rid of pests today
We assure you that you will be satisfied with our ever reliable services, if not a remedy or refund.