Water Tank Cleaning Bangalore
In Order to stay healthy, you need hygienic intake i.e clean food and water. For clean water, all you need is to keep your tank clean. The water quality in household water tanks is normally contaminated by some form of biological contamination and chemical usage in almost everything doesn't help the cause.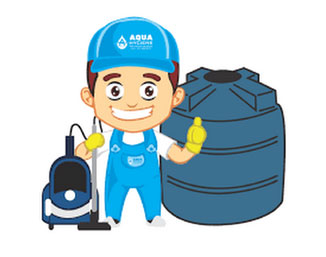 Water Tank & Sump Cleaning in Bangalore, Karnataka
Birds and pests and other animals work, decaying animal carcasses, dust, corroded metals, and leaves can easily find their way into the water tank.
Unhealthy water intake can cause Waterborne Diseases. Waterborne diseases are caused by drinking contaminated or dirty water. Contaminated water can cause diarrheal diseases, including Cholera, Typhoid, and other serious illnesses, etc. A study shows that water-related diseases cause 3.4 million deaths each year.
Are you tired of following up with local cleaners who don't turn up at given time? Look nowhere else, myRaksha offers ultimate water tank cleaning services for you in Bangalore, Karnataka. We offer full service & maintenance packages for all types of storage water tanks, sumps including Consultation on preventative maintenance & repairs, heavy or light duty cleaning, and sterilization.
We have expertise., experience and trained professionals to handle any type of water storage tank cleanings requests.
Full mechanical cleaning of water storage tanks
Complete disinfection of water storage tanks
Type of tanks to be cleaned (RCC, tiled ,sintex… ect)
We provide Water Tank Cleaning & Maintenance Service for –
Residential Apartment buildings
Schools, Colleges & Hospitals
Residential Care Facilities & Nursing Homes
Hotels, Restaurants & Bars
Public & Private Swimming Pools and Gyms
Shopping Centers, Sport facilities and Golf Courses
Offices & Industrial Premises
Agricultural & Horticultural Sectors
At myRaskha we understand how important a clean water tank is to live health life and we work hard to ensure you obtain the best services and woo you with our excellent customer support.
There are many benefits of choosing myRaksha service, some of them are mentioned below:

Minimal water wastage during tank cleaning
Statutory standards to deliver bacteria free, odor free, fungus free and virus free clear tanks
We use only approved chemicals at right quantity (we have herbal options as well)
High standard of service and we respect your time
Cleaning of Surroundings
Dewatering
Sludge Removal
Scrubbing
water Jet Cleaning
Vacuum Cleaning
Anti-Bacterial
UV treatment
We recommend house hold customers to avail our Water Tank and Sump Cleaning Services once in 3 months, we offer discounts for Annual Maintenance Contracts.
We came to know about myRaksha from the net and requested for a quotation for cleaning the sumps and tanks in our apartment. Within a day of visiting and checking the capacity of tanks, they provided a very reasonable quote. We accepted and a couple of days ago they came and finished the work with perfection. Just in a few hours, they completed the process. They are really professionals and very affordable. Kudos to myRaksha team.
They are going very well. They are the best in the services. This will take them a very long good work by them
Areas Served in Bangalore
Book your cleaning service today
We assure you that you will be satisfied with our ever reliable services, if not a remedy or refund.